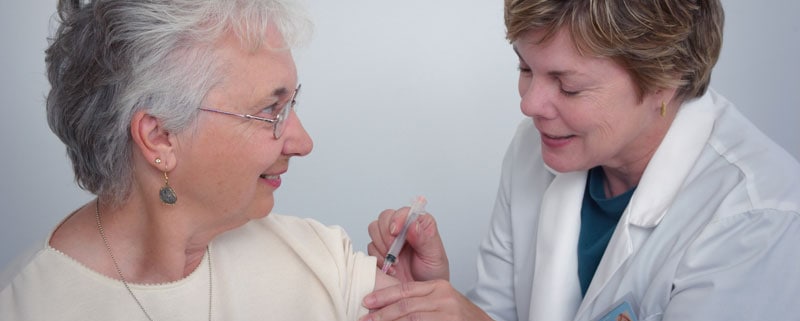 The flu season is coming and the best way to protect yourself against the flu is a yearly influenza vaccination.
Flu vaccination has many important benefits such as decreasing flu illnesses, less visits to the doctor, and most importantly it can decrease the severity of the symptoms as well as decrease of flu-related hospitalizations and deaths.
As per the Center for Disease Control (CDC), people 6 months and older should get an annual influenza vaccine with certain exceptions (please talk to your doctor!).
Influenza vaccination is especially important for people who are at a higher risk of serious complications from an influenza infection. As per the CDC, this includes…
Young children
Asthma
Neurologic and neurodevelopment conditions
Blood disorders (such as sickle cell disease)
Chronic lung disease (such as chronic obstructive pulmonary disease [COPD] and cystic fibrosis)
Endocrine disorders (such as diabetes mellitus)
Heart disease (such as congenital heart disease, congestive heart failure and coronary artery disease)
Kidney diseases
Liver disorders
Metabolic disorders (such as inherited metabolic disorders and mitochondrial disorders)
People who are obese with a body mass index [BMI] of 40 or higher
People younger than 19 years old on long-term aspirin- or salicylate-containing medications.
People with a weakened immune system due to disease (such as people with HIV or AIDS, or some cancers such as leukemia) or medications (such as those receiving chemotherapy or radiation treatment for cancer, or persons with chronic conditions requiring chronic corticosteroids or other drugs that suppress the immune system)
People with history of stroke
Pregnant people and people up to 2 weeks after the end of pregnancy
People who reside in nursing homes or other long-term care facilities
People from certain racial and ethnic minority groups are at increased risk for hospitalization with flu, including non-Hispanic Black persons, Hispanic or Latino persons, and American Indian or Alaska Native persons
Who should not get the flu vaccine?
People who SHOULD NOT get a flu shot include:
Children younger than 6 months of age.
People with severe, life-threatening allergies to any ingredient in a flu vaccine (other than egg proteins) should not get that vaccine. This might include gelatin, antibiotics, or other ingredients.
People who have had a severe allergic reaction to a dose of influenza vaccine should not get that flu vaccine again and might not be able to receive other influenza vaccines. If you have had a severe allergic reaction to an influenza vaccine in the past, it is important to talk with your health care provider to help determine whether vaccination is appropriate for you.
When is the best time to be vaccinated against flu?
For most people, September and October are generally good times to be vaccinated against flu. It takes about two weeks after vaccination to develop antibodies that protect against the flu.
Some individuals may benefit from two flu vaccines per season.
Different flu vaccines are approved for use in different age groups and patient populations. People should talk to their doctor before getting a flu shot, especially if:
you have an allergy to eggs or any of the ingredients in the vaccine. Talk to your doctor about your allergy.
If you ever had Guillain-Barré Syndrome (a severe paralyzing illness, also called GBS). Some people with a history of GBS should not get a flu vaccine. Talk to your doctor about your GBS history.
If you had a severe allergic reaction to a previous dose of any other flu vaccine, talk to your health care provider.
If you are not feeling well, talk to your doctor about your symptoms.
Please stay healthy during the upcoming flu season!
Dr. Drourr, Dr. Shtern and the staff of Concierge Medicine of Jupiter
https://cmedjupiter.com/wp-content/uploads/2022/10/cdc-GnLuuG9crEY-unsplash.jpg
529
800
Concierge Medicine of Jupiter
https://cmedjupiter.com/wp-content/uploads/2021/05/concierge-medicine-300px.jpg
Concierge Medicine of Jupiter
2022-10-31 22:13:02
2022-10-31 22:13:02
Benefits of Yearly Influenza Vaccination